Friday, 10 AM, everybody is going back to work with a certain frenzy : the week passed so quickly, but there's tons of works that needs to be pushed more and more tonight, tonight and… probably tomorrow, as certain residents looks like they REALLY want to make this PFC#4 some unforgettable moment.
And look who's just arrived : Jaime Hernandez is in the place. The day will be crazy.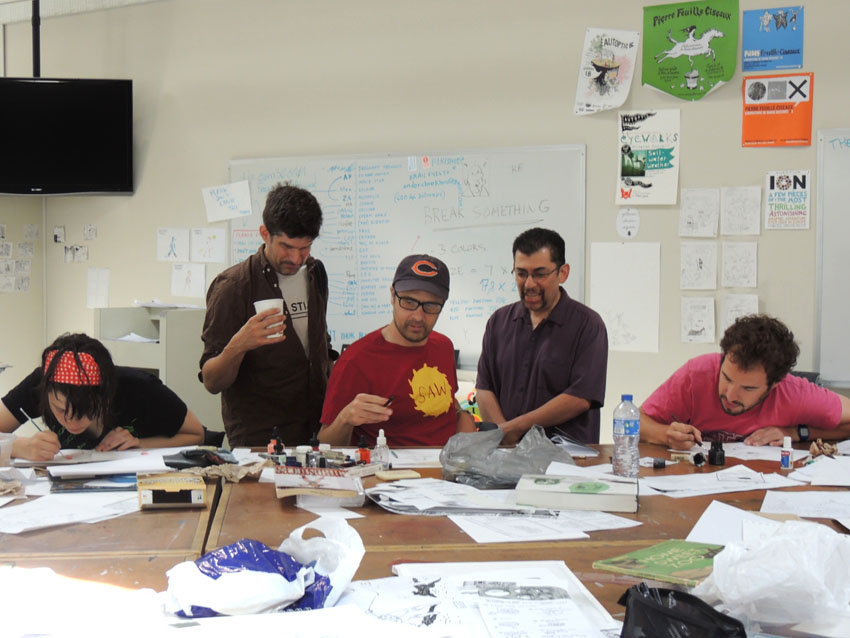 Geneviève Castrée, Zak Sally, John Porcellino, Jaime Hernandez, Max de Radiguès.
It's the Jaime Hernandez big day here :
– 6-9 pm: Artist reception for "Jaime Hernandez: 30 Years of Locas", main gallery, Minneapolis College of Art and Design (MCAD)
– 7 pm: Artist talk open to the public.
And he will of course be present at Autoptic on sunday : here's some news about the new Love and Rockets : New Stories #6 !
PFC#4, MTHRFCKRS.