And now, surprise!
This was not originally planned but we could not refuse such a proposal: the definitely very nice Anders Nilsen kindly offered us a reading a few chapters of his book "Rage of Poseidon", which is not translated in French yet, but available from the publisher Drawn & Quarterly English since a bit more than a year.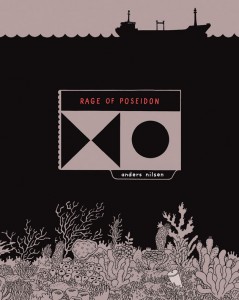 The reading will be in English, as our friend does not speak French, but we offer a subtitled version which should finally convince you of the incredible talent of the author.
We will also discuss what looks like a little "anti-Amazon" operation with his new collaborative project, "Conversation Gardening", which you are invited to discover on his blog right here.
But that's not all! Anders came along with few copies of his just printed new book, "God and the Devil at War in the Garden".
Will the deities advocated in this mythological replay convince the most curious Jura people?
See you on Saturday at 8pm for this small commented video projection!