Hip hip hooray! Once again and this time at the invitation of the Angoulême International Comics Festival, the great meeting of collective creation orchestrated by the ChiFouMi association took place on the occasion of its 46th edition in january 2019.
For a whole week, 16 creators explored the gigantic territory of contemporary comics. Whether known or less known, coming from Germany, Belgium, France, Israel, Switzerland, Thailand, the USA, their own approach of what comics can be has made us want to invite them to work and to experiment together in a place right next to Angoulême, where we are convinced emulation will materialize.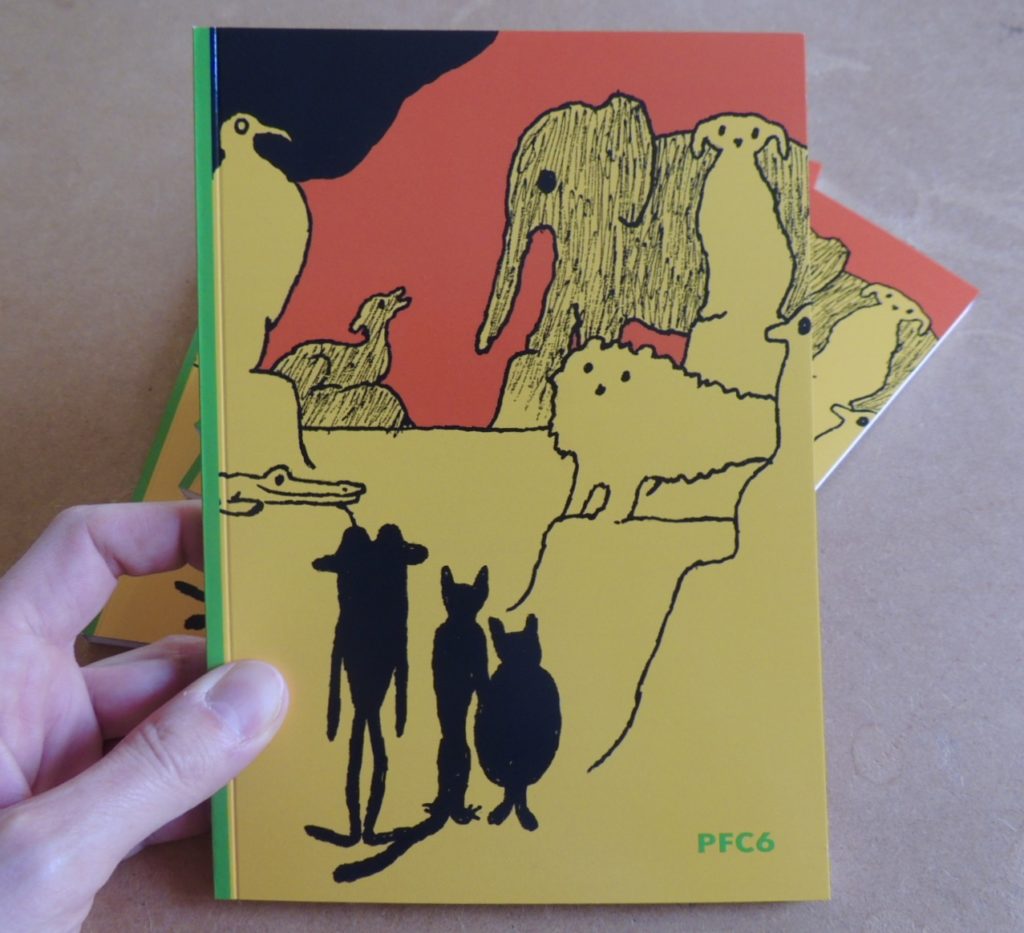 And once again, some magic happened : in a very few days, we managed to get a small run of books that attest of this very energy. All the PFC#6 residents collaborated on this new collective book.
It's done on "under creative constraints" to say the least, but we'll let you check about the process in the explanation within the book (or on our website for more informations).
It's a 100 pages printed in full color, A5 size, square spine, and comes with some PFC#6 giant postcards, too.
Through the pages : 66 pages of a long and complete comics exercise including all of the 16 PFC#6 cartoonists + somes pics from the residency + some explanations about the thing that you read + various stuff, too.
And who did that ? Tara Booth (USA), Tuna Dunn (Thailand), Jul Gordon (Germany), Anna Haifisch (Germany), Keren Katz (Israël), Yannis La Macchia (Swiss), Jean-Christophe Menu (France), Anders Nilsen (USA), Delphine Panique (France), Laura Park (USA), Benoît Preteseille (France), Simon Roussin (France), Samplerman (France), Jessica Seamans (USA), Mathilde Van Gheluwe (Belgium) and Noah Van Sciver (USA).
500 copies of this crazy collaborative long story based on some ChiFouMi classic narrative deconstruction method. And then, it's gone. In fact, we sold plenty of those during the Festival so : don't sleep on this one and click here for more infos on the ChiFouMi webstore !