Hip hip hooray! Once again and this time at the invitation of the Angoulême International Comics Festival , the great meeting of collective creation orchestrated by the ChiFouMi association will take place on the occasion of its next edition this coming January. As a small associative project born a little less than 10 years ago, we are very proud to take part in such a prestigious institution.
That new Pierre Feuille Ciseaux edition will be held right before the festival: For a whole week, 16 creators are bound to explore the gigantic territory of contemporary comics. Whether known or less known, coming from Germany, Belgium, France, Israel, Switzerland, Thailand, the USA, their own approach of what comics can be has made us want to invite them to work and to experiment together in a place right next to Angoulême, where we are convinced emulation will materialize.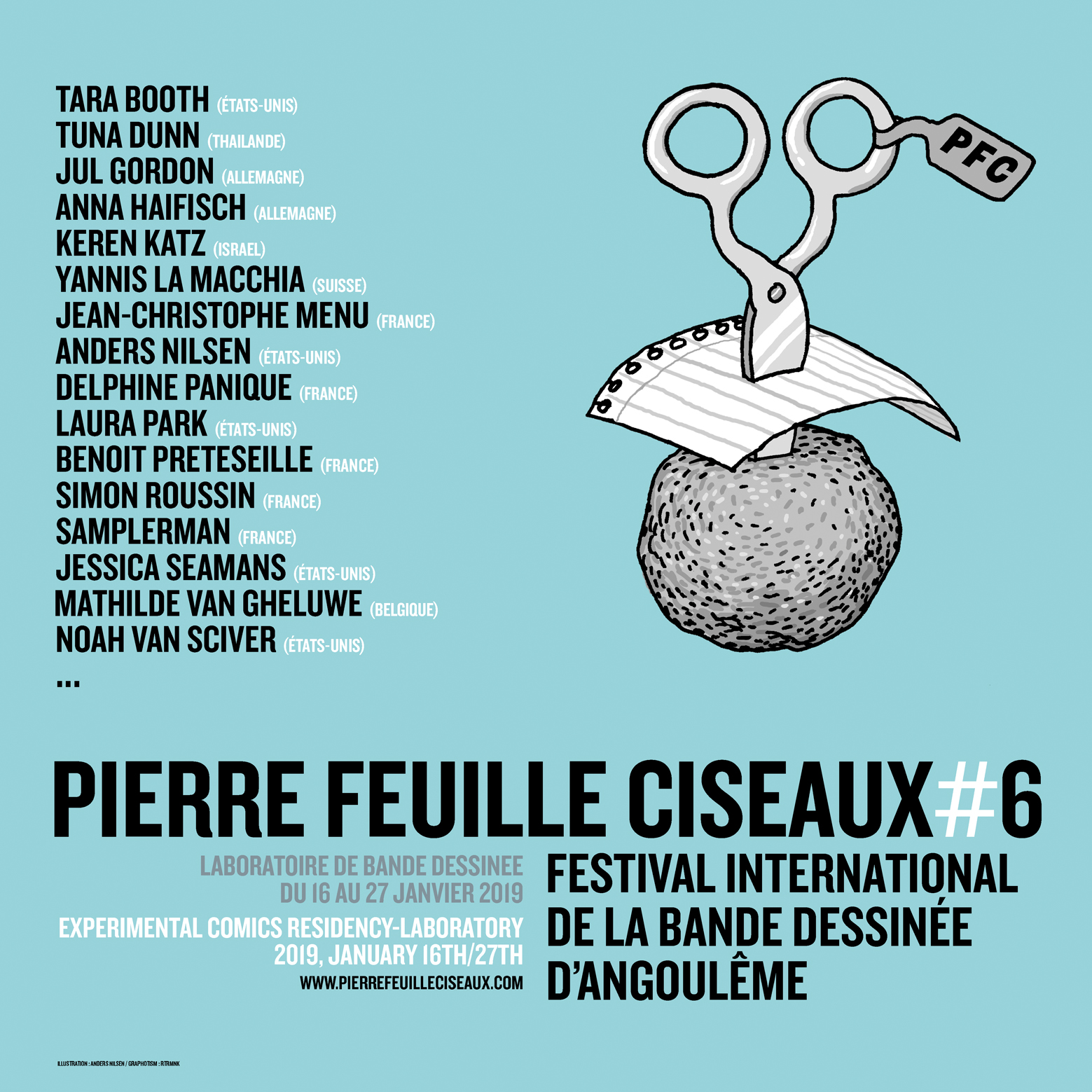 On the agenda, our usual chifoumistic propositions: Collective creation, deconstructed narration, creation under constraints, lots of graphic experimentations… Numerous and simultaneous workshops will give us the opportunity to produce various printed objects that will be shown to the public at the time of restitution. Everything made by the invited artists will be highlighted and displayed during the festival throughout several public events (exhibitions, gatherings, lectures, concerts, workshops among many other things) to be mentioned very soon.
Since we will find ourselves in Charente already, it seemed a pity not to continue our educational action, which is already reflected in each of the previous editions of PFC. In collaboration with École Européenne Supérieure de l'Image d'Angoulême, we thought it would be perfectly adequate to put forward an international workshop for some twenty students from schools all over the world (South Africa, Belgium, Finland, United States, France, Iceland, Switzerland, Thailand,…) who would follow a set of collective work proposals under constraints specially concocted by our long-time collaborator, Nicolas Verstappen. Professor and theorist at Chulalongkorn University in Bangkok (Thailand), Nicolas will allow participants to meet and work with the artists in residence. Again, we will have the opportunity to get back to this in details…
All this will be discussed both on this site and on social networks in real time, where we will try to share as precisely as possible the outcomes of this new experiment.
Here is the list of guest residents for this 6th Pierre Feuille Ciseaux edition :
• Tara Booth (USA)
• Tuna Dunn (Thailand)
• Jul Gordon (Germany)
• Anna Haifisch (Germany)
• Keren Katz (Israël)
• Yannis La Macchia (Swiss)
• Jean-Christophe Menu (France)
• Anders Nilsen (USA)
• Delphine Panique (France)
• Laura Park (USA)
• Benoît Preteseille (France)
• Simon Roussin (France)
• Samplerman (France)
• Jessica Seamans (USA)
• Mathilde Van Gheluwe (Belgium)
• Noah Van Sciver (USA)
ChiFouMi would like to thanks the artistic direction and the whole team at the Angoulême International Comics Festival, and all our numerous partners who helped us to provide this new PFC.
More soon !