If you're familiar with PFC, perhaps you noticed that each year, we launch some crazy project-inside-the-project kind of thing : trying to make some book appears from this nice artists gathering, during the one and only very week where they're all around.
For PFC#4, our main man Anders Nilsen, always on the run when it comes to add one more thing on his already giant-double-XXL to-do-list, decided to take care about it. Months before the beginning of the residency, he remembered that during his own PFC#3 residency in France, back in 2011, he was part of the giant process that our friends from Icinori launched while here. And he got the idea to work on his very own twist about it.
Of course, he brings aboard Zak Sally, the other past PFC now co-responsible for bringing the mess in their own country, and they quickly got ideas. Soon, the book appears to be some accordeon book printed through 3 colors silkscreen, but with some constraints to get everybody involved, especially on the North America / Europe. And soon, our favorites minnesotian guys get aboard those crazy guys from Aesthetic Apparatus, some of the finest silkscreen makers in the whole middle-east (and maybe in the whole US).
A few days before the start of the residency, after some Autoptic meeting in some bar not far away from MCAD, they got June from ChiFouMi in front of them for showing what's the idea was all about. And well, it was time for some last minute brainstorming, indeed.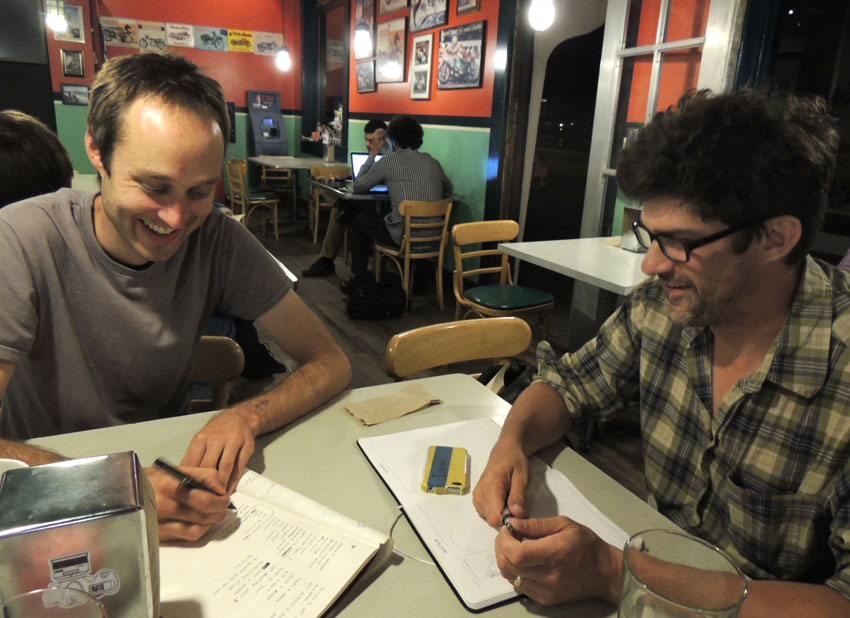 For their very first day, the residents, between thousands of things, got some presentation of the project :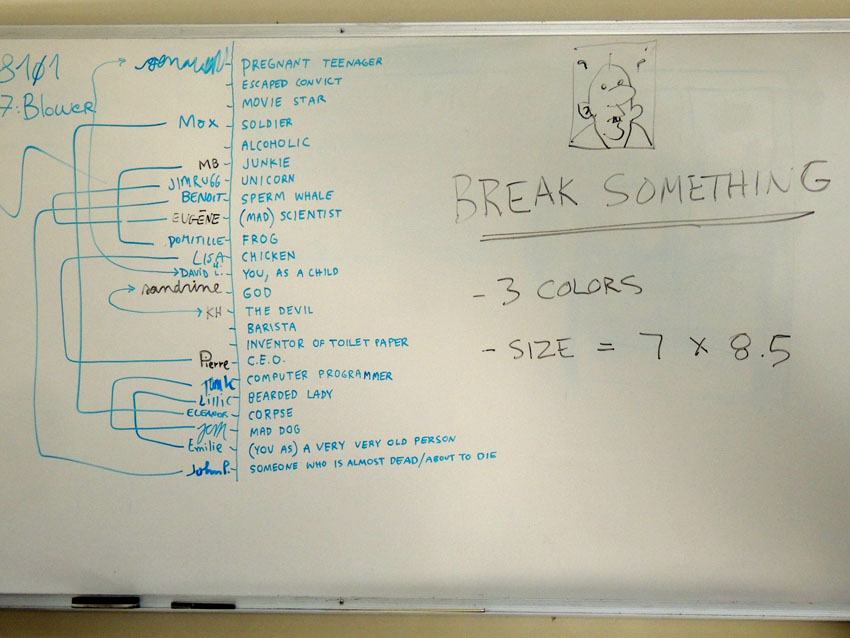 It's a bit less complicated than it looks like !
A list of differents and verious characters (an computer programmer, a chicken, a junkie, a corpse, a sperm whale…) all fit the same very arbitrary choice offered by Anders and Zak to the other authors : each one of them had to choose one, without knowing much about what they got to do with it. Then, some draw made each nort american author pairing with some european one. Each tandem had to create together, using both of their characters, on some very short story (cartoon, comics form, etc) on a one page only.
And the other thing was that both artists got to use the three specific colors tone that will be used for the whole book, whatever their usual graphic technic/tools was/were.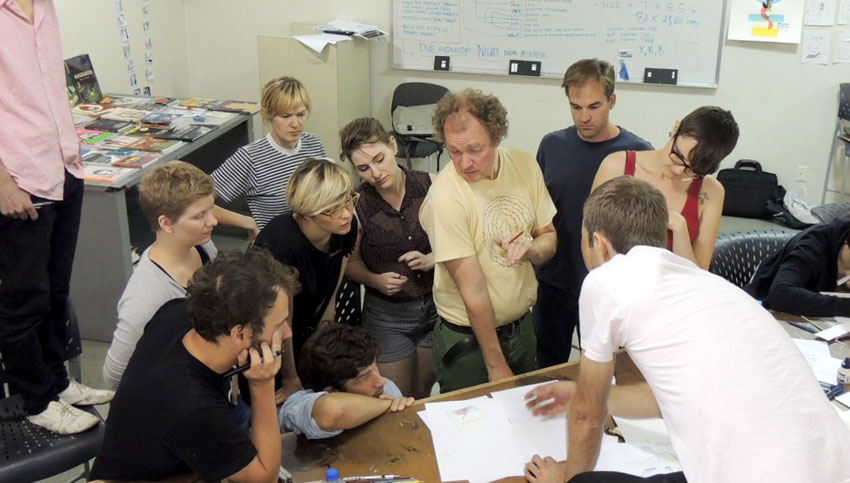 Above : of course, everything was quite clear for everybody, real quickly… Wait, what ?…
(left to right : Benoit Preteseille -standing on a chair, no head-, Emilie Plateau, Lilli Carré, Domitille Collardey, Lisa Hanawalt, Jean-Christophe Menu, Jim Rugg, Eleanor Davis ; front : Max de Radiguès, Zak Sally and Anders Nilsen's back).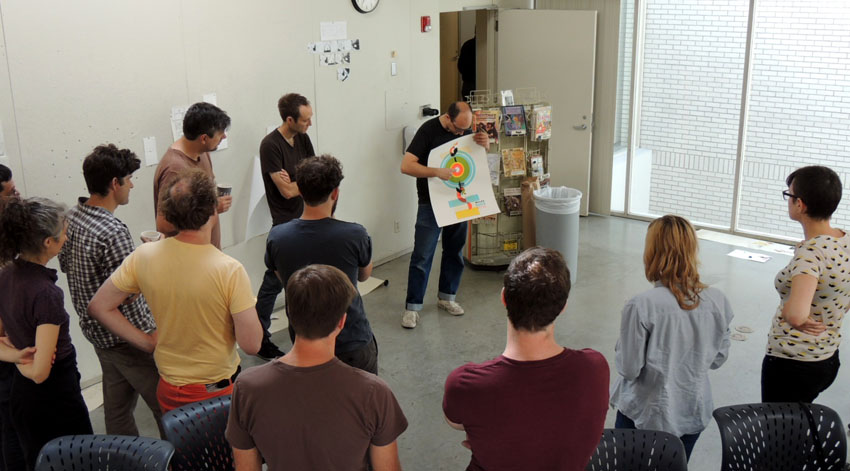 Above : as if it wasn't enough, Dan, of those veeeeery sweet guys from Aesthetic Apparatus, made a visit and took the time to explain everybody how it was supposed to work when coming to silkscreen. Some silkscreen lesson to everybody !
(a bit of Marc Bell, Sandrine Martin, Zak Sally, Tom Kaczynski, Jean-Christophe Menu, Anders Nilsen, Pierre Ferrero, Jim Rugg, Eugène Riousse, Lilli Carré, and our man Dan).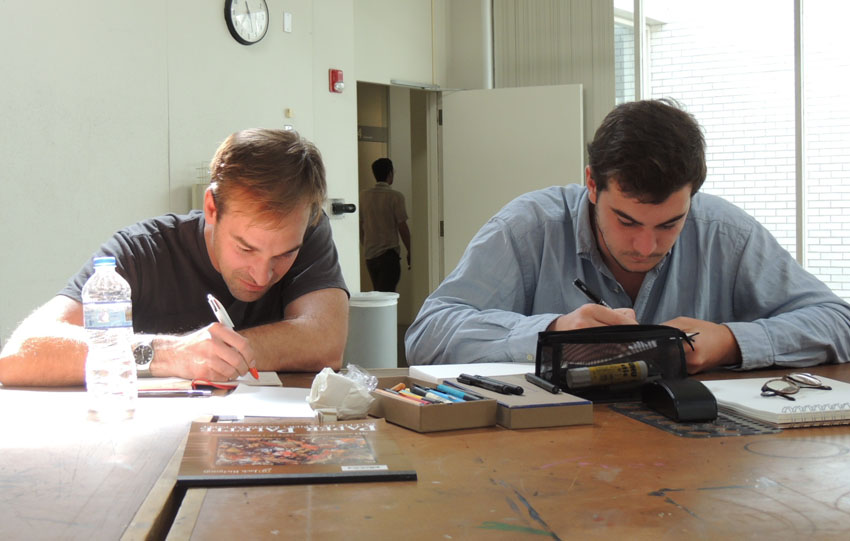 Some jumped aboard really quickly. Above are Jim Rugg (US) and Eugène Riousse (France), who had to deal with the mad scientist/unicorn team-up !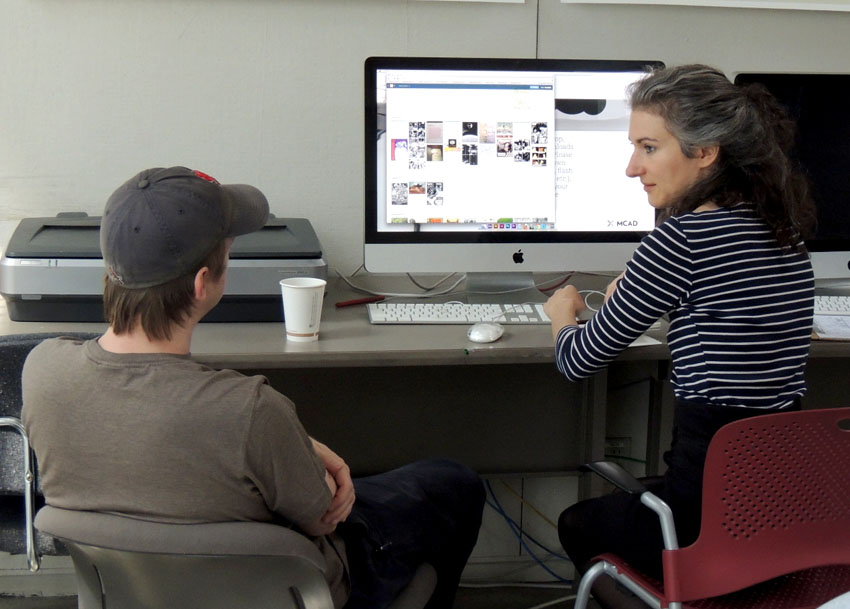 Above : Kevin Huizenga (well, his back) (US) and Sandrine Martin (France), working on, believe it or not, the God/Devil team-up ! Incredible hazard, to everybody's surprise.
Above : Pierre Ferrero (France) and Lisa Hanawalt (US), respectively using the CEO character and the chicken one.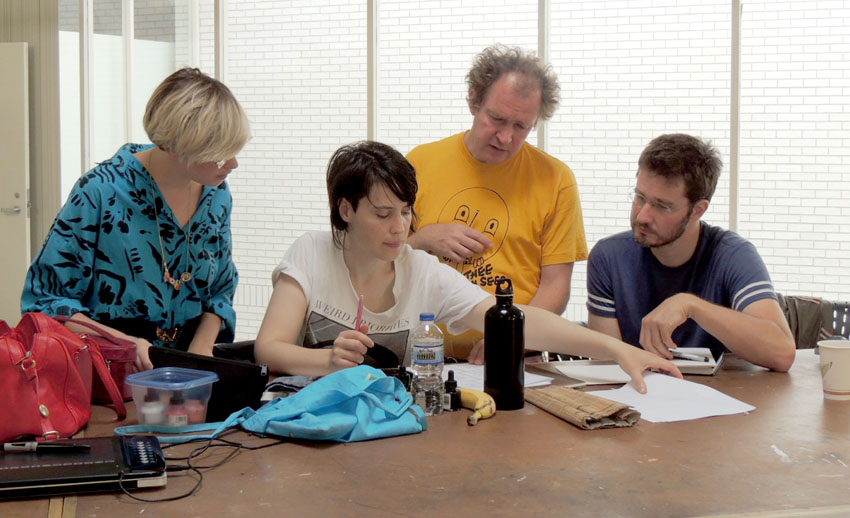 Above : some more ideas exchanges, between Domitille Collardey (US), Geneviève Castrée (Canada), Jean-Christophe Menu (France) and David Libens (Belgium).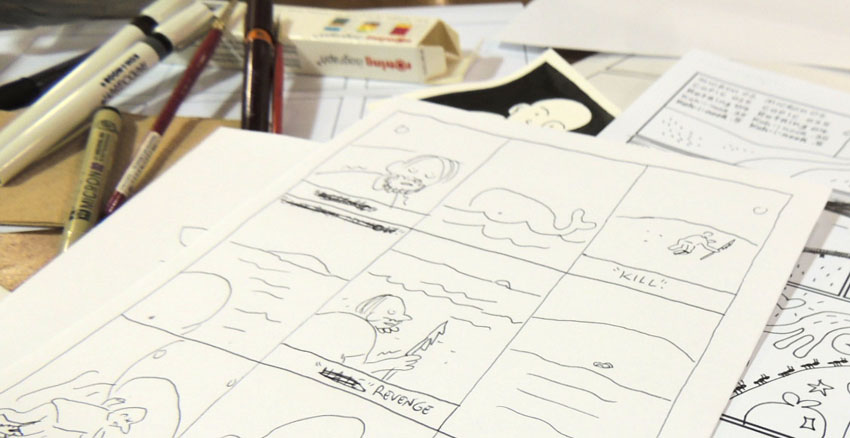 Above : John Porcellino (US) was teaming-up with Benoit Preteseille (France). Here's a step of John's sketches on their common work.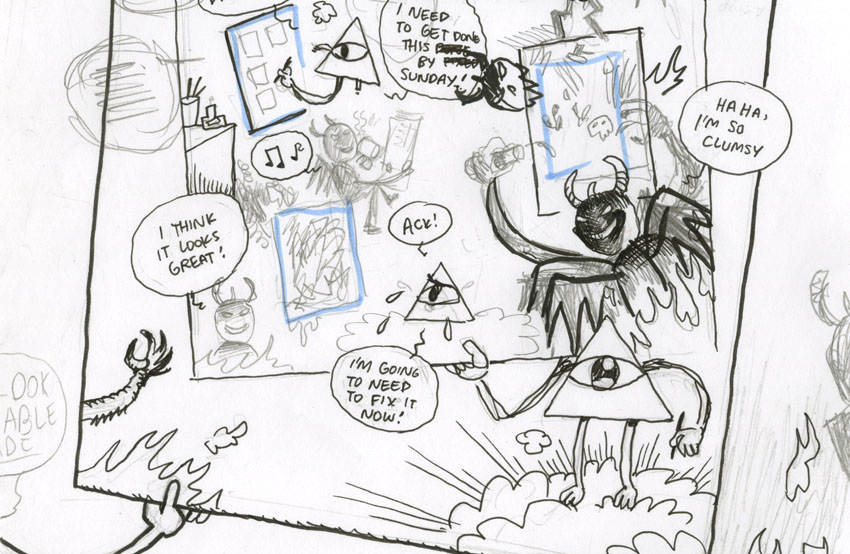 Above : Sandrine Martin and Kevin Huizenga and some of their work on their Devil/God common page.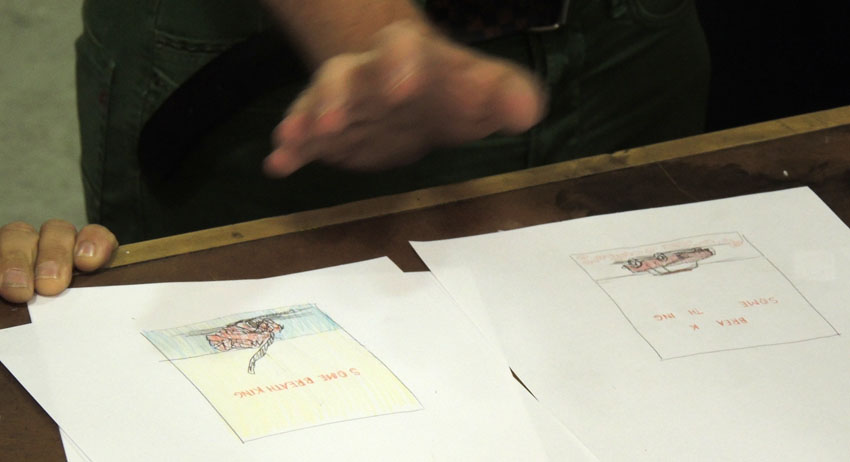 Above : Anders Nilsen and Zak Sally teamed up, too. But on the book cover, with both of them working on the front cover and the back one. Of course, this includes even more restrictions in the way to deal with, including unexpected words deconstruction, but that always makes sense, hey.
And once all these wonderfuls drawings and comics strips were done, what the hell happened ?
Let's say this is the miracle of life that does his job… Well, or maybe it's just the brilliant work that Dan (on left) from the mighty Aesthetic Apparatus did in a very, very few hours…
We already wrote it but let's do it again : those guys did some incredible job, and were patient enough with the plenty of questions and details we asked them. They're great. You should consider checking their awesome job on their website.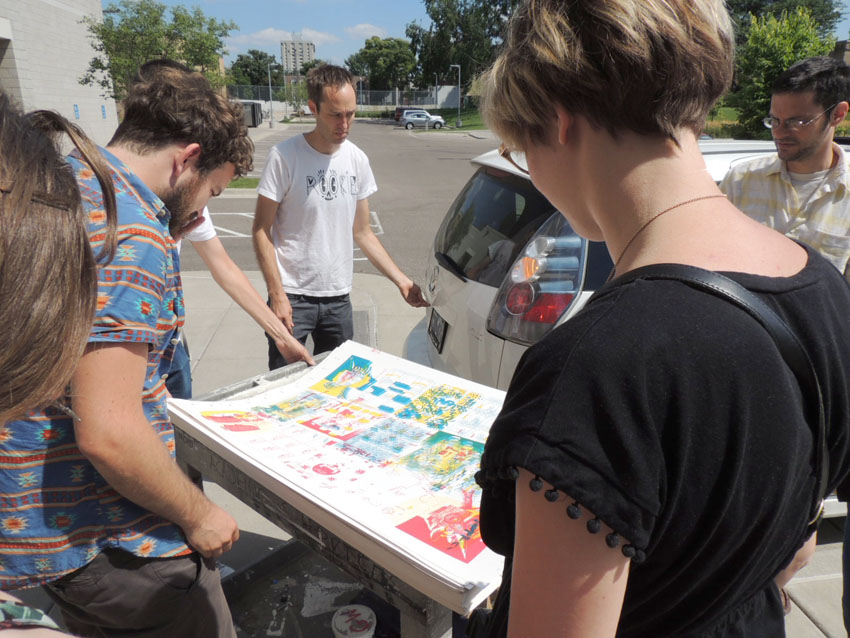 Above : on saturday afternoon, the silkscreen prints finally arrived at MCAD.
Is it because it was nearly the end, and that people felt a bid sad about it ? But anyway, it happened that a whole bunch of authors (with the help or our precious Xavier Guilbert, from du9.org, a longt-time PFC 1st class support ; thanks once again, mr X.) jumped into the idea of helping produce a few books for Autoptic, this dope event that everyday was waiting for. Ok, after all, Autoptic is just… Tomorrow ?!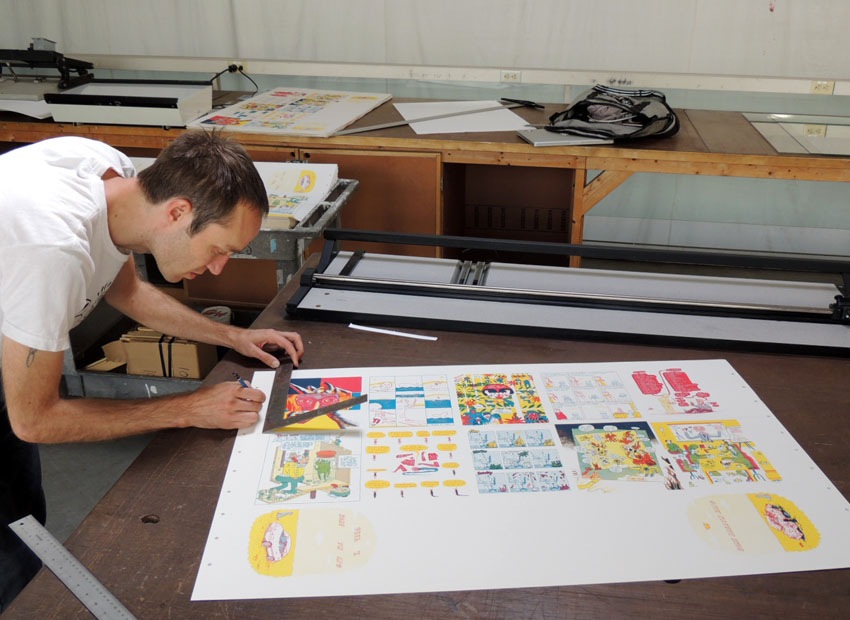 Above : at first, Anders did a few measures and checked about the final print. And then ? It was all about folding, cutting, assembling, folding again, measuring, re-cutting, compressing… Fortunately, there were some magic team around.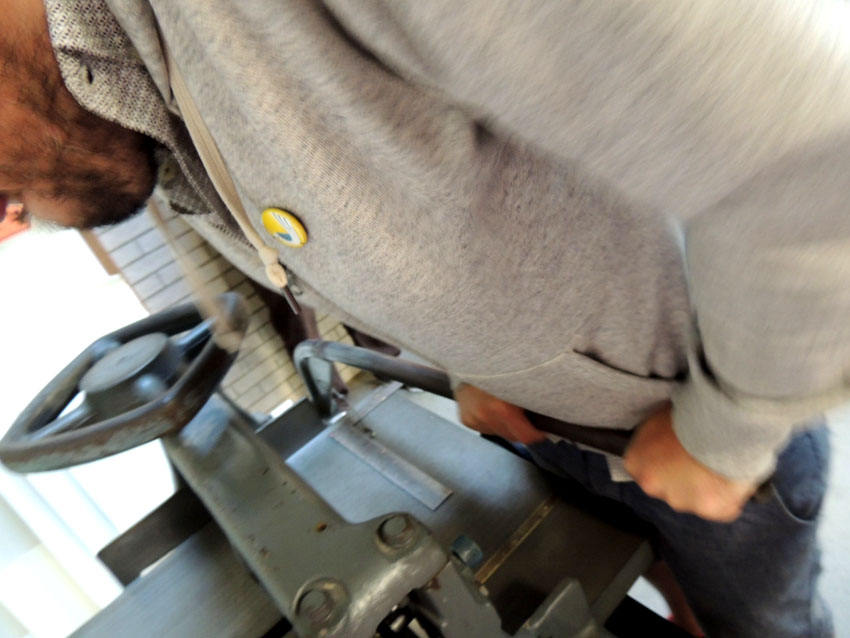 Above : it takes a very strong Max de Radiguès to cut all these prints !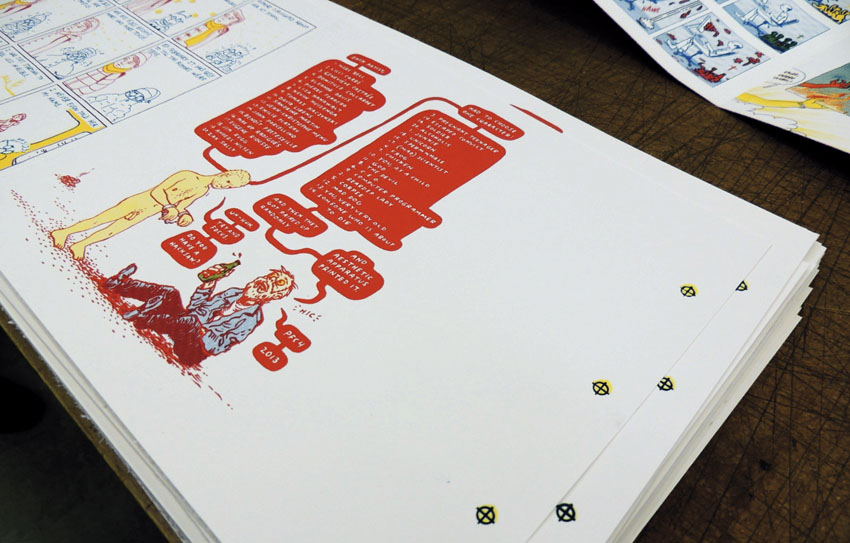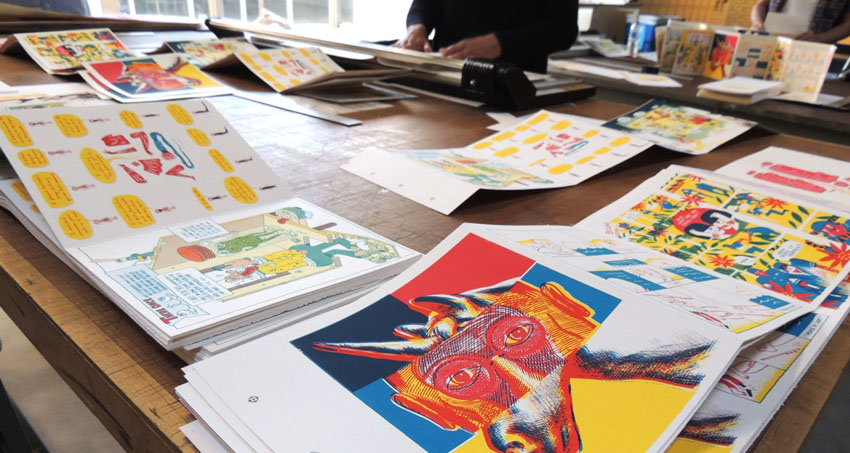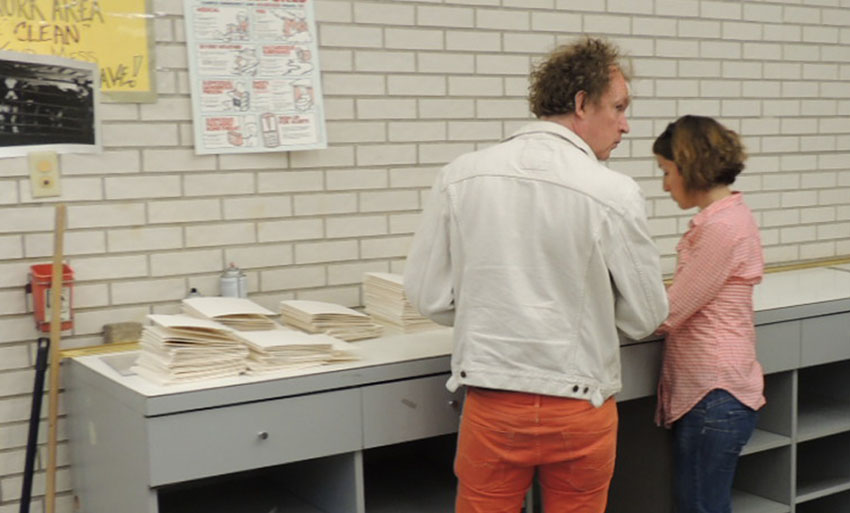 Above : having some 1st class publisher aboard is always something usefull ! Here's, JC Menu (previously running L'Association, now at the controler for L'Apocalypse) and Charlotte from ChiFouMi.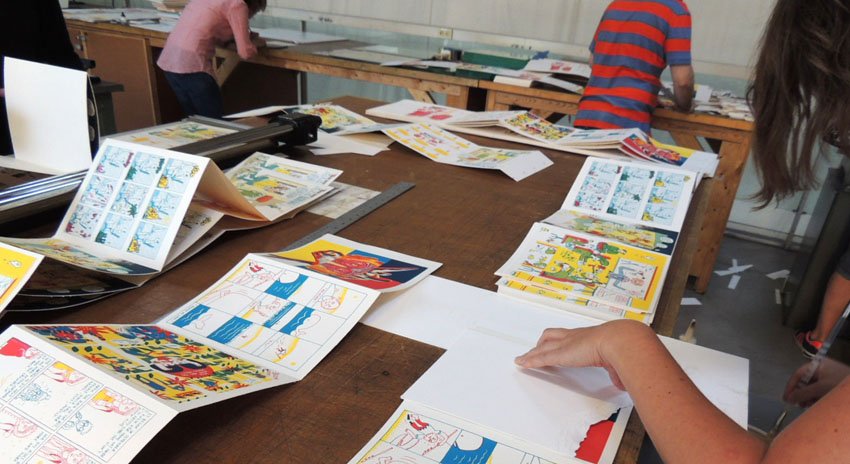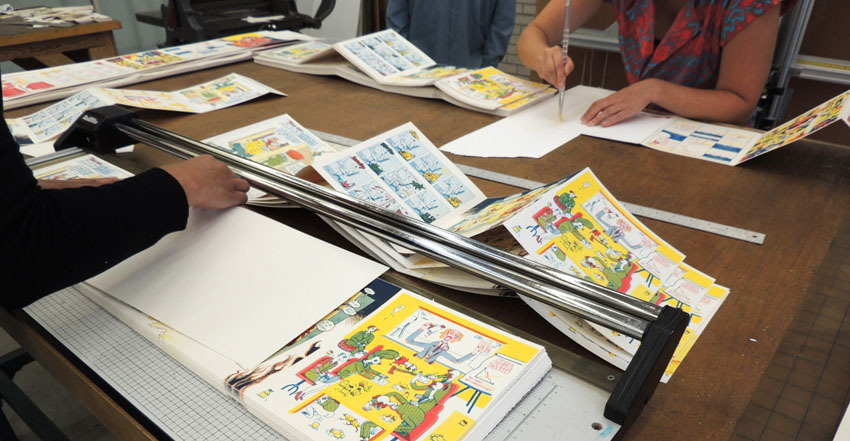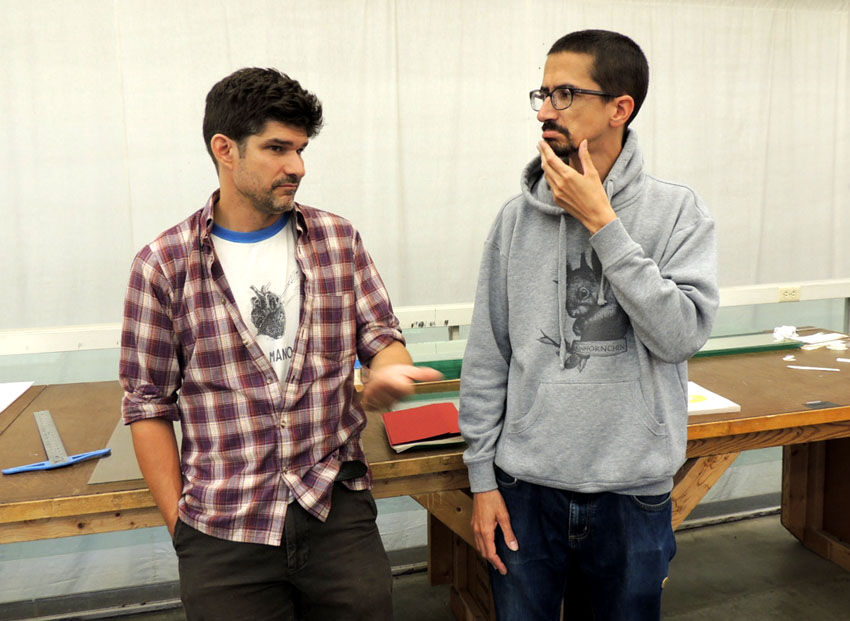 Above : let's face it, it took hours to get a very few ones. Zak and June wonders how they'll deal with the production because well, it's time to party, and to go to the Autoptic Kick-Off party ! After a whole week of hard labor, maybe it's time to have a real pause…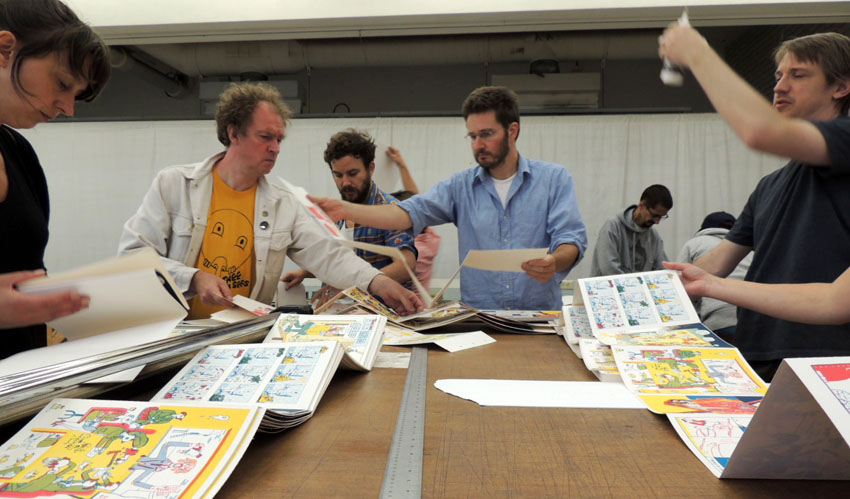 Above : … but the fact is right after the end of the party, our team went back into the action. Here's an epic shot with Nath (from ChiFouMi), JC Menu, Pierre Ferrero, Charlotte (behind Pierre), David Libens, June, Max de Radiguès, Kevin Huizenga, all working on this idea of having a few "Break Something" copies in the next hours…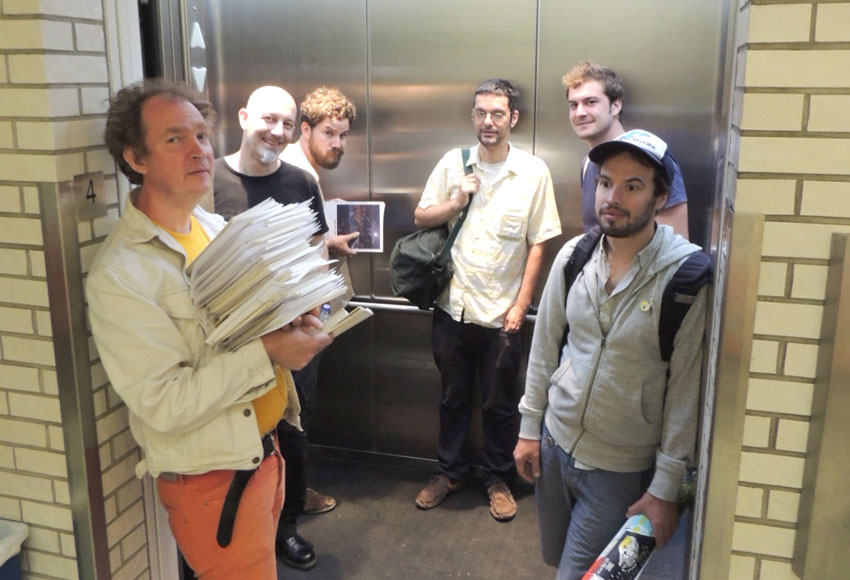 Above : …and it worked well ! Around 3 in the morning, it was time for the ultimate team to have some rest. 50 copies around are made, which is quite enough for showing the PFC#4 object to the Autoptic audience.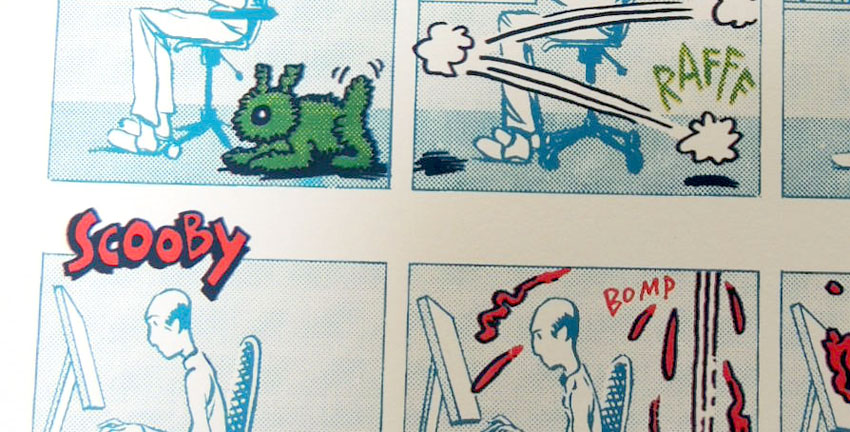 Above : some extract of the page done by JC Menu (France) and Tom Kaczynski (US).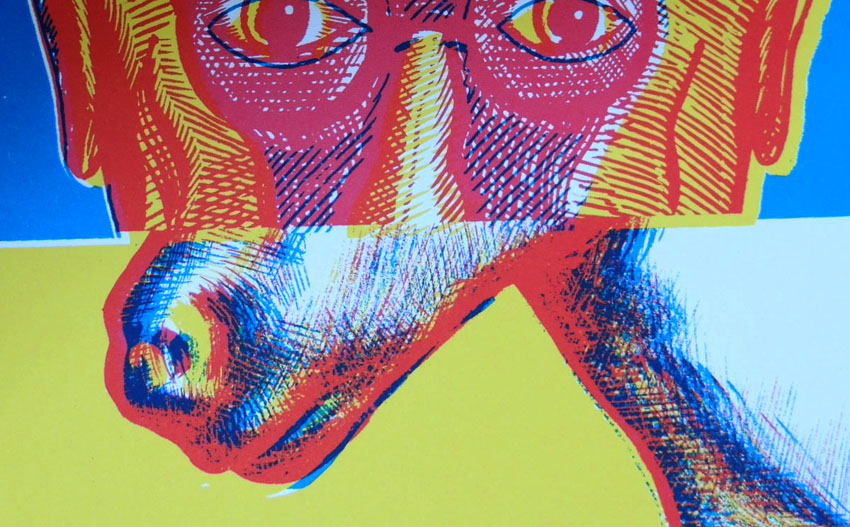 Above : some extract of the page done by Eugène Riousse (France) and Jim Rugg (US).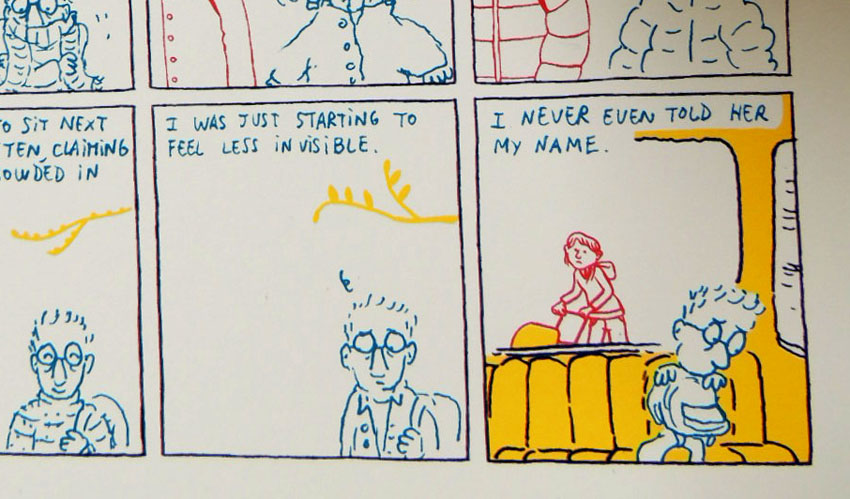 Above : some extract of the page done by Geneviève Castrée (Canada) and David Libens (Belgium).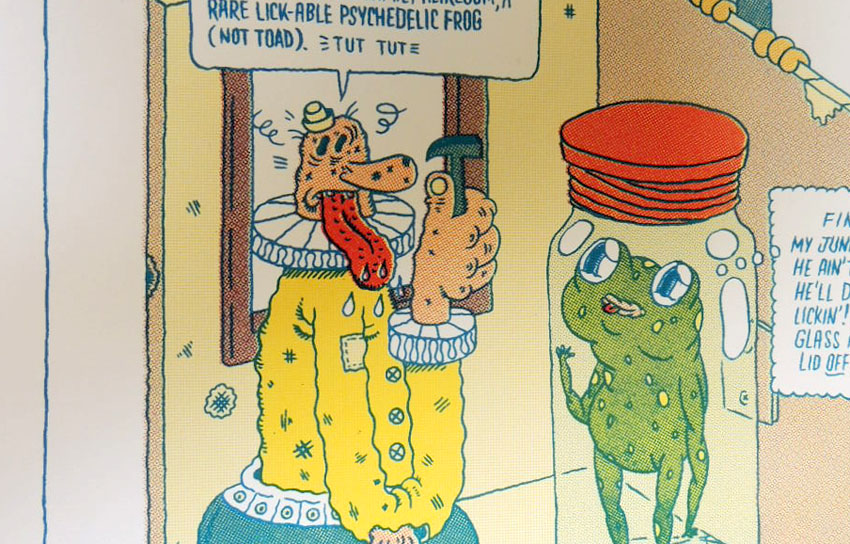 Above : some extract of the page done by Domitille Collardey (France/US) and Marc Bell (Canada). Those two had a ton of fun with dealing with the possibilities offered with the screenprint 3 colors print combinations…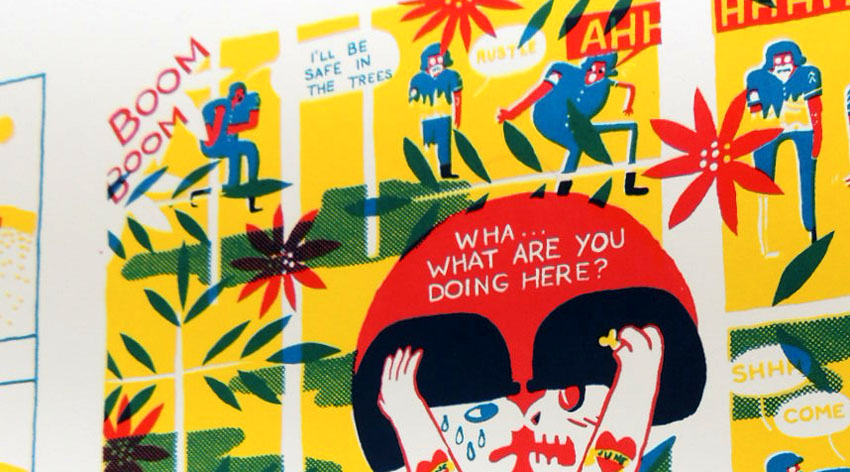 Above : some extract of the page done by Eleanor Davis (US) and Max de Radiguès (Belgium).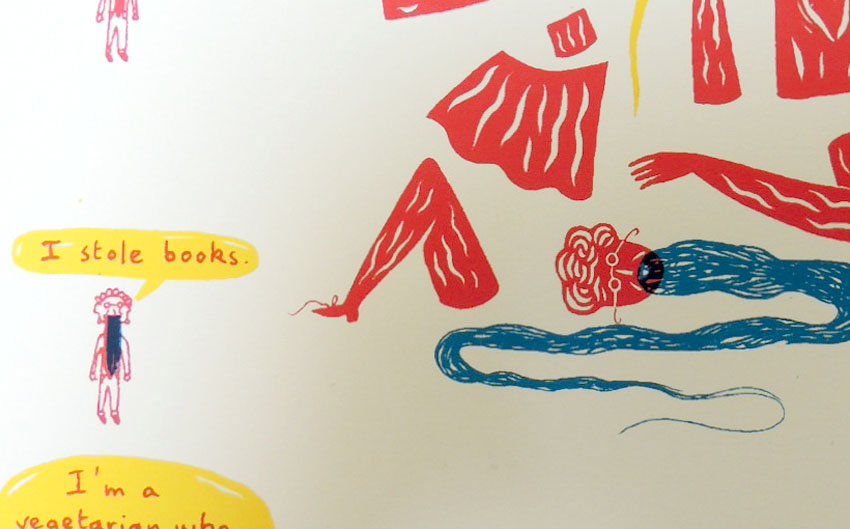 Above : some extract of the page done by Lilli Carré (US) and Emilie Plateau (Belgium).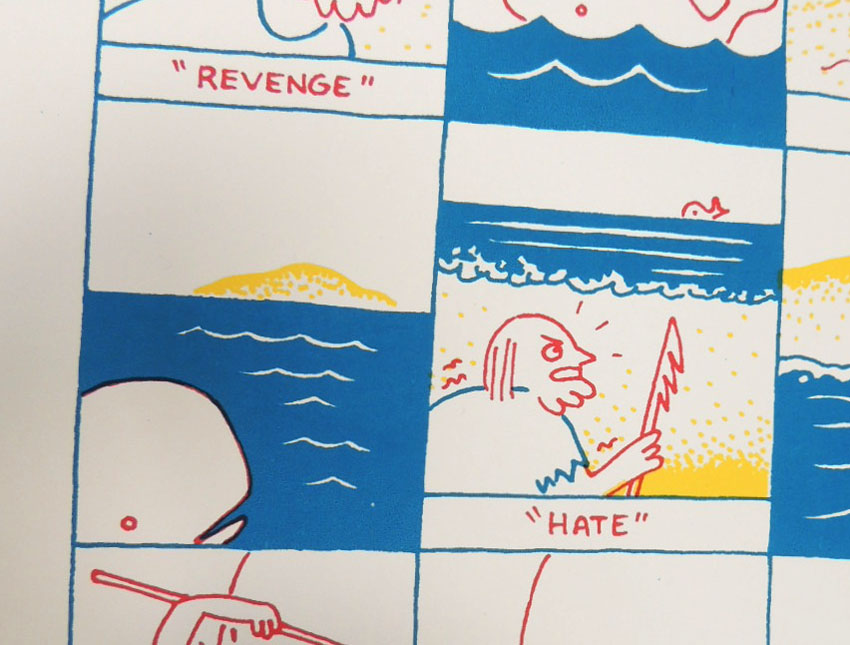 Above : some extract of the page done by Benoit Preteseille (France) and John Porcellino (US).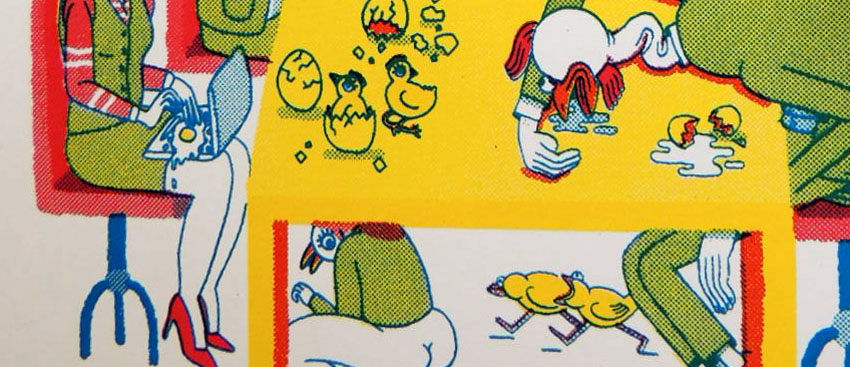 Above : some extract of the page done by Lisa Hanawalt (US) and Pierre Ferrero (France).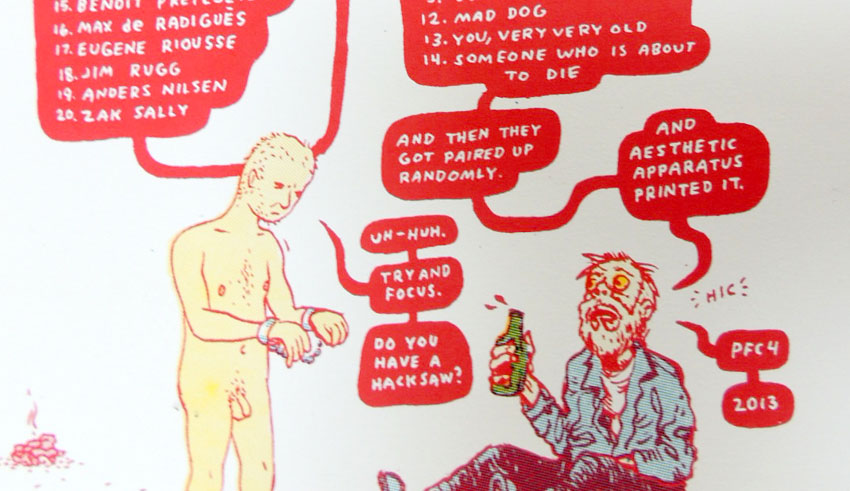 Above : Anders and Zak not only provided the cover (back and front), but also the summary, which gives a bit of an explanation about the project.

Above : some detail of the cover.
And here's the result of all this hard labor of drawings, inks, and love :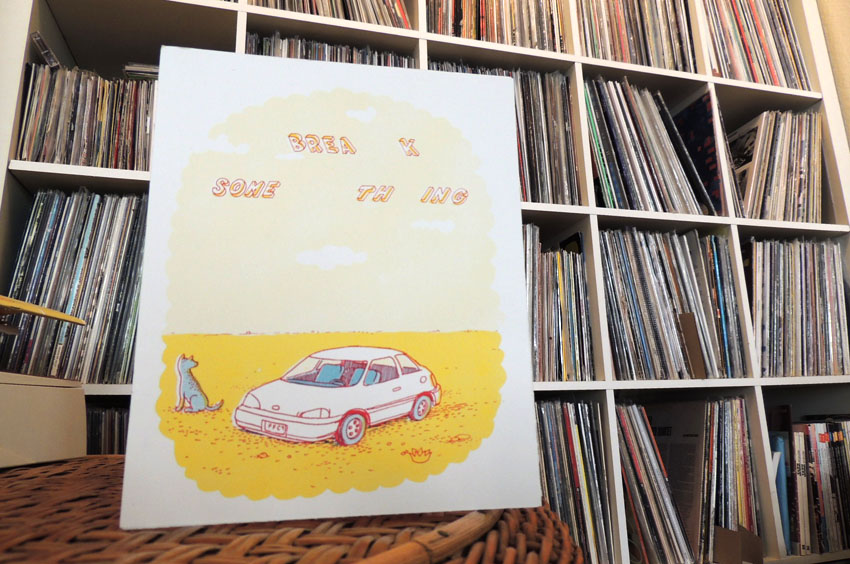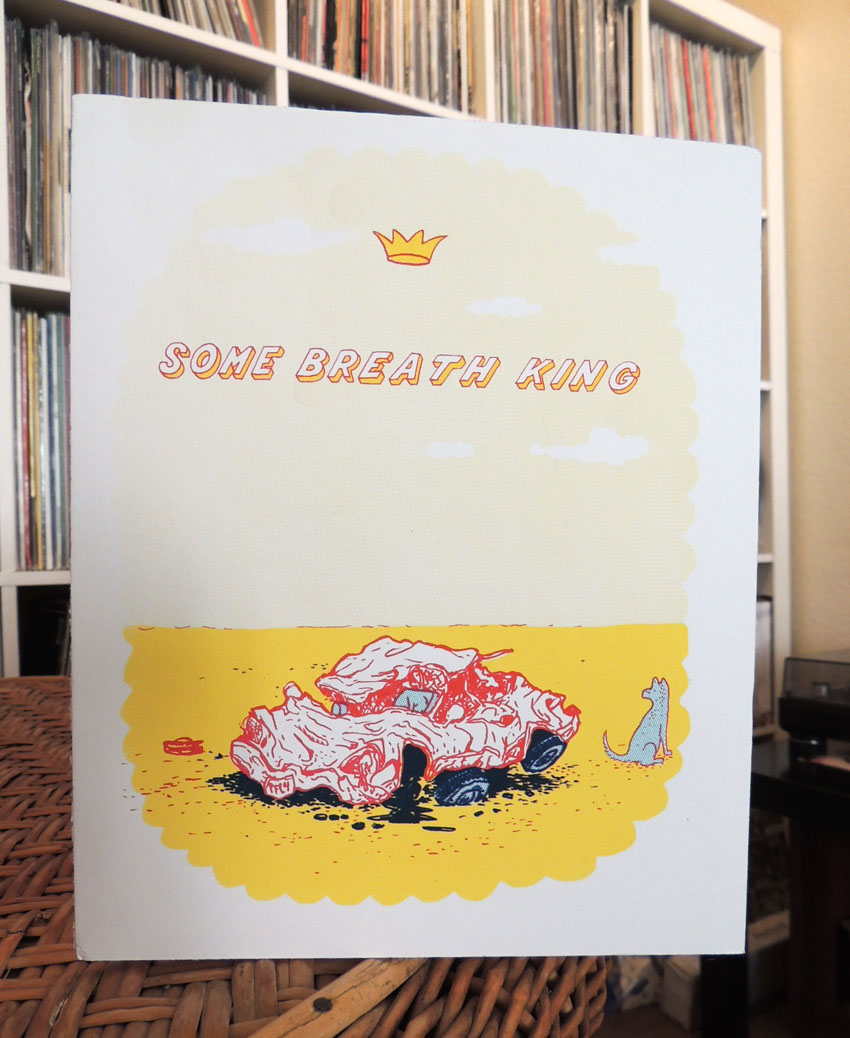 "Break Something (Some Breath Kings)", a collective book done during a few days, in MCAD – Minneapolis, screenprinted by those nice guys at Aesthetic Apparatus, and idea from Anders Nilsen with help from Zak Sally, with art from Anders Nilsen, Benoit Preteseille, David Libens, Domitille Collardey, Eleanor Davis, Emilie Plateau, Eugène Riousse, Geneviève Castrée, Jean-Christophe Menu, Jim Rugg, John Porcellino, Kevin Huizenga, Lilli Carré, Lisa Hanawalt, Marc Bell, Max de Radiguès, Pierre Ferrero, Sandrine Martin, Tom Kaczynski, Zak Sally.
The good news ? There's still a bunch of books availables, as we finished the second half of the run on the monday after PFC#4 and Autoptic… How to got it ? If in Europe, ask ChiFouMi (check this website side bar for web adress), if in North America, wait patiently for some soon-to-come update on Anders' website…
Unfortunalty, all the books found out some new home pretty quickly ! Thanks to all of the curious and enthusiats people who bought it so quickly. For those who didn't got some, maybe you can check directly with Anders Nilsen, who maybe will get a few last ones through his website…
More news soon !